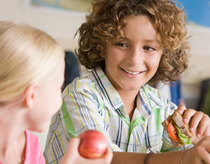 L.A. Unified, the nation's second-largest public school district, has decided to
stop selling meat
in its cafeterias on Mondays. This comes just months after the Los Angeles City Council
passed a Meatless Monday resolution
and represents a significant shift in attitudes toward meat.
Rising cost
,
environmental degradation
, and concerns over
animal welfare
are all fueling a growing, national conversation about the ethics of meat production. Introducing school children to vegetarian fare is a great way for them to learn about healthy and inexpensive plant-based meal options.
From college campus cafeterias to restaurant chains, veg options are becoming more widely available. To search for restaurants in your area that offer vegan items, visit
VegGuide.org
. For recipes and tips on going vegan, check out
ChooseVeg.com
.