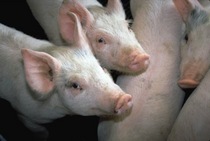 McDonald's has announced its plan to phase out its use of
gestation crates
for mother sows. Gestation crate confinement, whereby mother sows are locked in narrow metal crates barely larger than their own bodies for months on end, unable to turn around, lie down comfortably, or engage in other basic natural behaviors, is one of the cruelest forms of institutionalized animal abuse in existence.
"McDonald's believes gestation stalls are not a sustainable production system for the future. There are alternatives that we think are better for the welfare of sows," said Dan Gorsky, senior vice president of McDonald's North America Supply Chain Management. "McDonald's wants to see the end of sow confinement in gestation stalls in our supply chain."
McDonald's actions are backed by leading animal welfare experts, including renowned scientist Dr. Temple Grandin, who says of the announcement, "Moving from gestation stalls to better alternatives will improve the welfare of sows and I'm pleased to see McDonald's working with its suppliers toward that end. ... I'm optimistic about this announcement."
McDonald's plans to work with its suppliers in the coming months to determine how to end its use of gestation crates and will share its results after May of this year.
Two months ago, on the heels of an MFA
undercover investigation
into McDonald's egg supplier Sparboe Farms, a number of high-profile celebrities, including Ryan Gosling, Zooey Deschanel, and Alicia Silverstone,
urged McDonald's
to "prohibit the purchase of eggs produced by hens who spend their miserable lives crammed into tiny wire cages."
Click here
to join a growing number of consumers urging McDonald's to end its use of eggs from hens confined in battery cages.
While McDonalds' announcement is a step forward (literally) for millions of pigs, it's important for consumers to know that crate-free doesn't mean cruelty-free. The most compassionate choice consumers can make is to reject all pork.
Click here
for information on adopting a vegan diet.