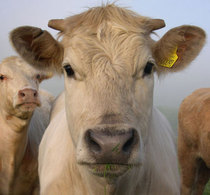 A recent
CNN article
highlights the ongoing investigation into the recall of a massive 9 million pounds of tainted meat by the Rancho Feeding Corporation earlier this year, one of the largest meat recalls in recent years.
Claiming that the meat may have come from "diseased and unsound" animals who weren't properly inspected, the USDA ordered its removal from commerce.
According to the article, "Investigators now believe that Rancho was buying diseased dairy cows and processing them when government inspectors weren't there. After the cows were killed, employees would hide the warning signs of cancer by trimming off diseased parts, using a fake stamp of approval or even replacing the heads of sick cows with ones from healthy animals. It's unclear which employees were involved, officials said."
Lost your appetite? Maybe it's time to move toward a vegetarian diet. Leaving animals off our plates isn't just a good way to prevent
foodborne illness
; it spares countless animals a lifetime of suffering.
For delicious recipes and helpful tips, check out
ChooseVeg.com
.