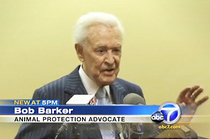 Last week, Mercy For Animals made national headlines by releasing
hidden camera footage
of calves on an Ohio veal factory farm chained by their necks in narrow stalls where they couldn't even turn around.
Bob Barker, Emmy Award-winning host of
The Price is Right
, lent his support to the case, not only by narrating the
investigation video
and writing letters to two major grocery chains
asking them to end their sale of veal
, but by also joining MFA's Executive Director,
Nathan Runkle
, at a news conference in Los Angeles. In total, MFA held five news conferences, each generating massive mainstream exposure to the sad plight of calves raised for veal.
Here is a quick roundup of some of that coverage:
Print


Costco speaks out on veal supplier's tactics - Associated Press

How Was Your Veal "Prepared"? Like This Video? - News Blaze

Activists urge halt to veal sales - Pittsburgh Tribune-Review

Costco bans treatment of veal calves that industry calls typical - The Seattle Times

Is Costco's Veal Zeal the Real Deal? - Sun Break

New undercover video of calf confinement moves Bob Barker to call for veal and dairy boycott - The Examiner

Graphic animal rights video prompts quick response from Costco - Sky Valley Chronicle

Costco apologizes for veal supplier's actions - New Mexico Business Weekly

Animal group wants all veal farms banned - The Wooster Daily Record

Animal rights group condemns veal industry - Dayton Daily News

Costco speaks out on veal supplier's tactics - Huffington Post

Costco apologizes for veal supplier's actions - Puget Sound Business Journal

Group: Video shows veal cruelty at Wayne farm - The Wooster Daily Record

Costco: We insist on ethical treatment of all animals - The Seattle Times

'Price is Right' Host Barker Tells Costco Their Veal is Wrong - Lalist.com

Television


Costco Veal Leads To Protests By Animal Rights Group - King5.com

Costco Veal Leads To Protests By Animal Rights Group - KiroTV.com

New video alleges animal cruelty at veal farm - ABC KABC

Group Says Ohio Farm's Treatment of Calves is Cruel - FOX 8

Cleveland: Animal rights group claims cruelty to veal calves - Wkyc

Activists Ask Costco to Stop Selling Veal, Alleging Cruelty at Farms - NBC LA

Undercover video alleges veal abuse at Ohio farm - ABC WEWS

Activists Say State Board Not Doing Enough To Protect Animals - NBC 4

Costco Responds to Animal Cruelty Charge - NBC LA

Undercover Video Shows Calves At Ohio Veal Farm - NBC 4