Mercy For Animals spent the Fourth of July holiday advocating for farmed animals in a head-turning protest against Nathan's Famous International Hot Dog Eating Contest, a barbaric display of gluttony that draws nearly 50,000 live spectators and over two million ESPN viewers worldwide.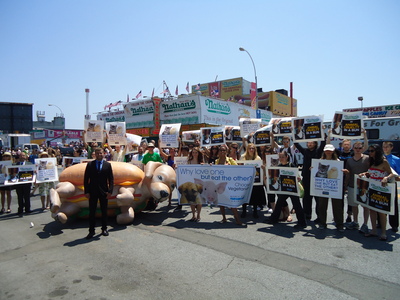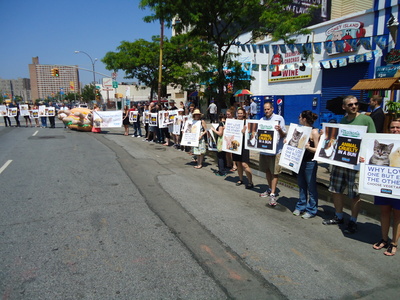 The larger-than-life demonstration featured MFA's mascot - a massive, 10-foot-long inflatable puppy crammed inside a bun and topped with ketchup, mustard, cheese, and lettuce - and was joined by dozens of New York City activists
wielding signs
with images of an adorable puppy and lovable farmed animals sitting side-by-side that read, "Why Love One but Eat the Other? Choose Vegetarian." Other activists held signs that read, "Nathan's Famous = Animal Cruelty in a Bun" and distributed emergency
Vegetarian Starter Kits
to passersby.
Leading our crew was television personality and animal rights activist
Simone Reyes
, and MFA's National Campaign Coordinator
Phil Letten
, who's been
traveling the country
to spread the message of kindness and compassion. Our demonstration drew a slew of photographers, including several members of the media, and was covered by the
Associated Press
and
Reuters
through a multitude of national news outlets.
"If you wouldn't eat your dog, why eat other animals? Farm animals are just as intelligent, sensitive, and worthy of our respect as the animals we consider pets," said Phil in an
interview with CBS New York
. "This outrageous meat gorge fest is not only a gross public display of gluttony, but also promotes the cruelty, exploitation, and violence that animals suffer at factory farms and slaughterhouses before becoming Nathan's Famous Frankfurters. The most powerful action we can take to prevent egregious animal abuse is to adopt a compassionate vegetarian diet."
Join MFA for our next stops as we tour the
Northeast
.