The message was simple: celebrate diversity and honor compassion. Over 60 local animal advocates joined Mercy For Animals last weekend to march in the annual Texas Freedom Parade. The impressive turnout of energetic volunteers at MFA's premier Dallas event illustrated that Texans are eager to promote kindness and
reject cruelty to animals
.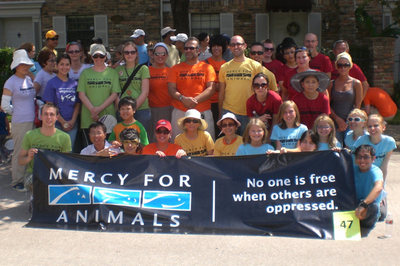 Bearing MFA logo t-shirts in an assortment of colors, the advocates formed a human rainbow and marched behind a banner declaring, "No one is free when others are oppressed." The vegan parade block was met with loud cheers, applause, thumbs-up, and high-fives. Over 4,000 pieces of pro-vegetarian literature were distributed during this pro-active and positive outreach event, including thousands of MFA's new
"Why love one but eat the other?"
brochure.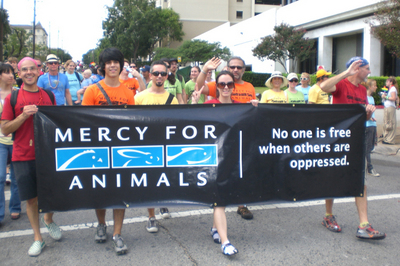 A special thanks to
DallasVegan.com
blogger, Eddie Garza, for coordinating this incredible event.
Click here
to read an uplifting article highlighting Eddie's inspiring work planning the MFA parade march and his efforts to promote cruelty-free food choices.
Click here
to learn how you can take action to help animals within your community.