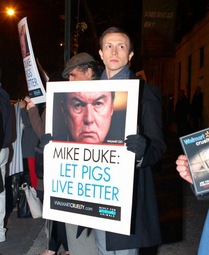 Early this week, a huge crowd of compassionate protestors gathered in New York City to confront Walmart CEO Mike Duke, who was in town speaking at the Council on Foreign Relations, over the company's continued support of cruelty to pigs. Despite the bitingly cold weather, activists from all over the tri-state area came out to support MFA's
Walmart Cruelty
campaign - a nationwide initiative to convince the mega retailer to adopt a new animal welfare policy prohibiting its pork suppliers from confining pigs in cruel gestation crates. This is a commitment Walmart's major competitors have already made.
Along with a 10-foot-tall inflatable pig covered in bloody sores and crammed inside a tiny gestation crate, and a controversial mobile billboard boldly declaring, "Walmart: Stop Torturing Pigs," MFA activists greeted Mike with posters bearing the messages, "Mike Duke: Let Pigs Live Better" and "Walmart Profits from Animal Abuse."
The protest sparked from Mercy For Animals' investigations into major Walmart pork suppliers, which have revealed pregnant pigs confined for nearly their entire lives in crates barely larger than their own bodies, pigs suffering from bloody open wounds and infections, and conscious piglets being slammed headfirst into the ground and having their testicles ripped out and tails cut off without painkillers.
"Walmart continues to support blatant animal abuse by buying pork from suppliers that cruelly condemn intelligent and social animals to a lifetime of misery and deprivation in crates where they can't even turn around, walk, lie down comfortably, or engage in other natural behaviors," said MFA's executive director Nathan Runkle. "It's high time that Walmart follow the lead of all its major competitors and make the humane and socially responsible choice to phase out inherently cruel gestation crates."
Want to help pigs?
Click here
to sign MFA's petition to Walmart's CEO demanding the retail giant do away with gestation crates.
Photos courtesy of Splice Photography.