Nearly a hundred exclusive guests joined Mercy For Animals' founder Nathan Runkle and former MTV News correspondent John Norris at a private loft in New York City for the debut screening of MFA's new national television ad campaign.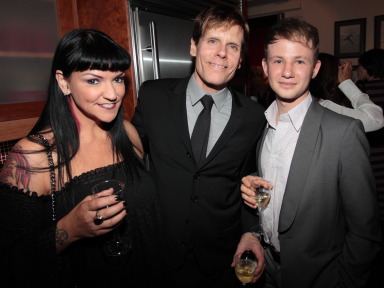 Designed to raise awareness about the plights of farmed animals, who suffer out of sight, out of mind, at the hands of the meat, dairy and egg industries, this hugely successful event raised tens of thousands of dollars to help ensure these groundbreaking ads will soon be seen by millions of young adults on MTV from coast to coast.
Thank you to the Host Committee, volunteers and everyone who attended this event to help raise money to expand MFA's advertising efforts and reach even more people with a message of compassion for farmed animals.
This very successful fundraising event featured complimentary wine and spirits from
Pine Box Rock Shop
, an all-vegan bar in Brooklyn, coupled with savory vegan hors d'oeuvres from the amazing
Blossom Restaurant
in Manhattan, and delectable desserts from the world famous
Vegan Treats
.
If you weren't able to attend the event but would like to support our groundbreaking television ad campaign, please consider making
a tax-deductible donation online
.
Photo credits: Tyler Weggel for
alerot.com