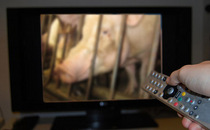 Following the launch of Mercy For Animals' ambitious national pro-vegetarian television ad campaign last fall--which reached millions of teens and young adults from coast to coast on MTV--this month we are further expanding our efforts to include even more channels, including Bravo, VH1, Oxygen, E! and more.
MFA's powerful series of ads brings Americans face-to-face with the harsh reality animals endure in factory farms and slaughterhouses, and encourages viewers to transition toward healthy and humane vegetarian diets. Watch the provocative ads here:
Sir Paul McCartney famously said, "If slaughterhouses had glass walls, everyone would be
vegetarian
." Imagine the number of people who would embrace a cruelty-free diet if more of them knew
the truth about factory farming
.
Help us inspire even more people to choose compassion over cruelty by sharing these powerful new ads with your friends and family on Facebook and other social networking sites or blogs. With your help, we can build a more compassionate world for all animals.
Click here
to make a tax-deductible contribution today to support these life-changing new ads.