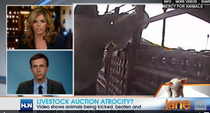 Last week, MFA's Executive Director Nathan Runkle appeared on
CNN's Jane Velez-Mitchell
to talk about the
undercover investigation at one of southern California's largest and oldest livestock auctions
that led to 21 charges of cruelty to animals against seven auction employees and its owner.
MFA called for the auction to be shut down, not only on the grounds of severe animal cruelty but also for reasons concerning public health. Despite California laws that prohibit auctions from selling or holding animals who are too sick or injured to walk, such animals were indiscriminately sold and transported with the others. These downed animals are more likely to carry diseases that threaten public health if allowed to enter the human food supply.
Nathan summarized the investigation to viewers:
"Our investigator documented a culture of cruelty. Workers were documented beating animals, dragging them, throwing them by their necks, and neglecting 'downed' animals - animals too sick or injured to even walk - without any access to food, water, or veterinary care." Nathan expressed that this sort of conduct is nothing less than institutionalized cruelty - standard practice at factory farms, slaughterhouses and livestock auctions everywhere.
To remove your support from industries that harm
animals
,
people
, and the
planet
, order a free
Vegetarian Starter Kit
at
ChooseVeg.com
.