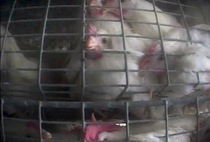 In the wake of a shocking undercover cruelty investigation that prompted McDonald's, Target, Sam's Club and other major retailers to drop Sparboe Farms as an egg supplier, Mercy For Animals has filed an
official complaint
against the company for lying to its customers about the way egg-laying hens and baby chicks are treated at its facilities.
The complaint, submitted to the Federal Trade Commission (FTC) on Thursday, details the false statements issued through Sparboe's websites and the contradictory evidence of routine animal abuse documented by MFA and statements by animal welfare experts demonstrating the company's blatant disregard for the health and well-being of millions of birds.
On Sparboe's website, the company falsely claims to "ensure" hens are provided with "Five Essential Freedoms":
1.) Freedom from hunger and thirst - MFA's investigation clearly shows workers regularly tossing sick or injured chicks into trash bags to slowly suffocate or starve to death and hens trapped in cage wire unable to access food or water

2.) Freedom from discomfort - as the company routinely burns the beaks off of baby birds without any painkillers, causing acute and chronic pain and discomfort

3.) Freedom from pain, injury or disease - yet decomposing carcasses of sick or injured birds are left for weeks in cages with live hens still laying eggs for human consumption

4.) Freedom to express normal behavior - while all of its hens are crammed into cages so tightly they are unable to freely move or stretch their wings, let alone engage in basic natural behaviors, such as walking, running, exercising, nesting, dust-bathing, perching, foraging, or roosting

5.) Freedom from fear and distress - even as hidden-camera footage shows workers swinging chickens around with wires attached to their legs and attempting to stuff terrified birds into each other's pockets as a prank.

Watch the undercover investigation for yourself and see if Sparboe's claims match up with reality:
Don't buy the lie. As MFA works to expose the cruelty and deception of Sparboe and other factory farm giants, consumers still hold the greatest power of all to prevent needless suffering of animals by simply removing eggs from their diets and replacing them with
cruelty-free vegan alternatives
.