When popular Tex-Mex restaurant and bar
Hacienda on Henderson
, located in the trendy Knox-Henderson neighborhood of Dallas, reached out for help in creating a vegan menu, MFA's Texas campaign coordinator
Nora Kramer
was thrilled to introduce them to some delicious vegan possibilities.
Hacienda marketing manager Hallie Kaplan was not only impressed by tasty vegan alternatives, such as
Daiya vegan cheese
and
Soyrizo
, she also recognized the business benefits of being able to market to the
growing vegan community in the Dallas-Fort Worth area
.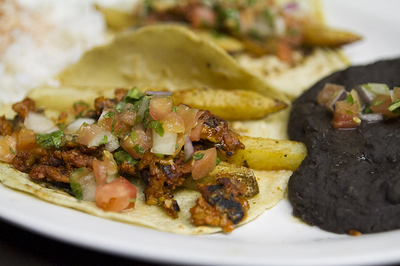 "Throughout the past few years, I've seen the vegan community in Dallas grow exponentially into a much larger movement that incorporates a spectrum of diverse individuals with various interests and stakes in veganism," she said.
After receiving more and more customer requests to modify menu items to be vegan, Kaplan realized, "It would be much easier and customer-friendly if we incorporated vegan items into our regular menu so everyone was aware of them. With the vegan menu, we believe that we're helping our vegan customers, as well as potential customers, feel a part of the Hacienda home."
With delicious new dishes, including vegan enchiladas and spinach quesadillas, polenta with portabello mushrooms, potato and soyrizo tacos, and incredible sopapillas for dessert, this new vegan menu is sure to please vegans and meat-eaters alike.
Reaching out to local restaurants to encourage them to expand their vegan offerings is a great way to help animals, and it can be as simple as letting the owners or managers know about the opportunity for increased revenue and expanded market that incorporating a few vegan menu items brings, as well as offering some suggestions of vegan items that would be appropriate to add to the menu.
Let the owners or managers know about the "vegan veto vote," a dynamic whereby one vegan in a group of non-vegetarians often determines where the group eats and will choose a place that is vegan-friendly over one that is not. MFA's
Vegetarian Resource Guide for Restaurants
will help them every step of the way.
To find great veg-friendly eateries in your area, visit
VegGuide.org
.
Photos: Sylvia Elzafon and Ann Mai