Thousands visited the
2009 DC VegFest
, a day-long outdoor festival celebrating the very best of everything vegetarian. Located in the heart of DC at the George Washington University campus, the festival attracted impressive numbers of visitors from throughout the Mid-Atlantic region. MFA's table offered the information and basic tools for switching to
cruelty-free diets
to a steady stream of people. Visitors of all ages received our
Vegetarian Starter Kit
as well as our popular
Why Love One But Eat the Other?
pamphlet.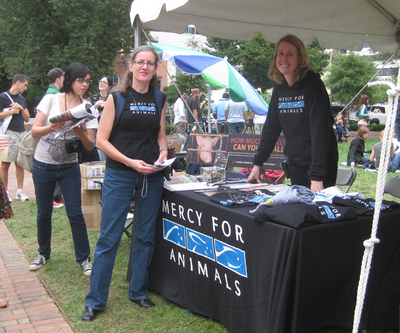 The participation of more than ten area restaurants,
additional advocacy groups
, and
celebrity speakers
on nutrition and fitness underscored MFA's successful day of reaching the public with our information on the advantages and ease of adopting a compassionate lifestyle.
Mercy For Animals advocates also recently hosted a fun public outreach booth at this year's
Chicago Pagan Pride 2009
in Oak Park, Illinois. Pagan Pride features many artisans and merchants from around the Illinois area, as well as hosts countless educational workshops and seminars. MFA volunteers spread the peaceful message of compassionate choices and cruelty-free eating options. With the recent release of
MFA' egg hatchery investigation
, several people came to our table asking more about the investigation and what they can do to help. Quite a few
Vegetarian Starter Kits
and
Vegetarian Guide to Chicago
leaflets were passed out and well-received.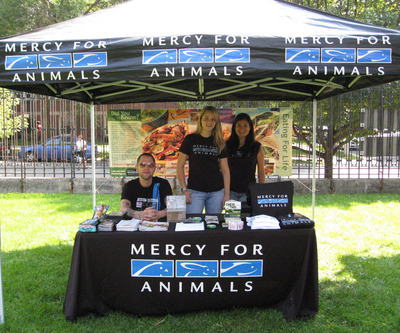 For more than 30 years,
Schaumburg's Septemberfest
has entertained area residents with its popular and well-attended Labor Day event. The Fest included over 250 arts and crafts exhibitors, a carnival, parade and local entertainment. Mercy For Animals set up a booth, selling t-shirts and bags to raise funds for the animals and handing out over 600
Compassionate Choices
booklets, as well as hundreds of our other vegan educational resources. Families and children particularly loved our table and often couldn't wait to share with us their love of animals