Mercy For Animals is ratcheting up our
national campaign
against the world's largest retailer this week, as we unveil a feast for Walmart President and CEO Mike Duke's eyes: a traffic-stopping
mobile billboard
outside Walmart's headquarters in Bentonville, Arkansas.
The billboard, which includes images from a shocking
MFA investigation
into a Walmart pork supplier, boldly declares on one side, "Walmart: Stop Torturing Pigs" and on the other, "Walmart: Stop Supporting Animal Abuse." The 20-foot-long traveling ad calls on Walmart execs to "Ditch Cruel Gestation Crates" and features heartbreaking pictures of sows locked inside narrow gestation crates.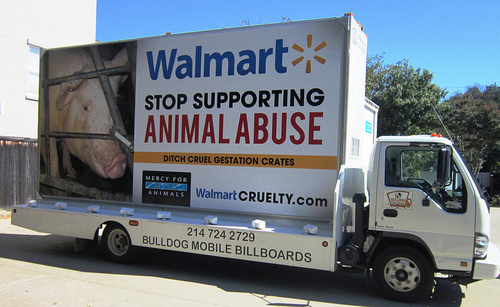 The eye-opening billboard is the latest volley in MFA's national campaign, aimed at moving the retailer to require its pork suppliers to phase out restrictive crates for breeding sows. From coast to coast, in more than 70 cities, consumers have protested outside Walmart stores demanding the company eliminate cruel crates from its supply chain. Over 75,000 people have signed MFA's petition to Walmart, and
A-list celebrities
, including Ryan Gosling, Kristen Bell, Zooey Deschanel, Emily Deschanel, Tom Morello, Kim Basinger, and David Boreanaz, co-signed a letter to Walmart's CEO Mike Duke that states: "As the largest retailer in the world, Walmart has the power--and the ethical responsibility--to ensure that the pork sold in its stores is not the product of egregious animal abuse."
Shocking
hidden-camera video
of animal abuse recorded at a Walmart pork supplier revealed pregnant pigs confined for nearly their entire lives in crates barely larger than their own bodies, pigs suffering from bloody open wounds and infections, and conscious piglets being slammed headfirst into the ground and having their testicles ripped out and tails cut off without painkillers.
Banned in nine US states and the entire European Union, gestation crates have been widely condemned by animal welfare experts as one of the cruelest factory farming practices in the world. Major food providers, including
McDonald's
,
Burger King
, Wendy's, and Chipotle, and grocery chains, such as
Safeway
,
Kroger
,
Target
, and Whole Foods, have all started eliminating crates from their supply chains.
Join MFA in urging Walmart executives to adopt a new animal welfare policy prohibiting its pork suppliers from confining pigs in gestation crates so small they cannot even turn around, walk, or lie down comfortably.