Drawing connections between gay rights, animal rights, and other social justice movements, over 30 MFA volunteers braved the pouring rain to march in Dallas' annual gay pride parade this weekend behind a banner bearing the message, "No one is free when others are oppressed."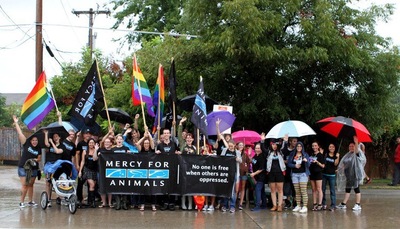 Despite the inclement weather, our dedicated advocates distributed nearly 5,000 pro-vegetarian leaflets to enthusiastic parade- and festival-goers, who also got a close-up view of our thought-provoking "Why love one but eat the other?" vehicle.
At the festival, we reached 115 open-minded and compassionate people via our
Paid-Per-View
program, whereby festival attendees watched a four-minute version of our hard-hitting documentary
Farm to Fridge
in exchange for a dollar. Viewers were shocked to learn about the cruelty to animals on today's factory farms, and many―including several students at a high school in suburban Dallas―were inspired not only to
change their diets
, but also to spread the word so that others could make compassionate food choices.
Mercy For Animals is proud to have participated in pride marches around the country for the past seven years, taking a stand for justice and compassion for all.
For more information about how you can help animals, the environment, and your own health by transitioning to a compassionate vegetarian diet, visit
ChooseVeg.com
.