Check out this amazing blog from MFA volunteer extraordinaire, Kevin O'Connor!
Over 40 Mercy For Animals supporters and nearly a dozen of their children visited
Sunrise Sanctuary
, a safe haven for approximately 170 rescued animals, for an afternoon of cleaning, maintenance, and bonding with the resident animals.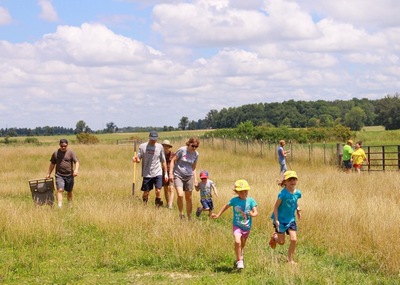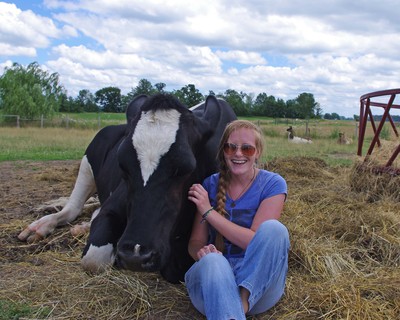 MFA featured Sunrise Sanctuary in our award-winning documentary,
Fowl Play
, and honored founder Mindy Mallet with MFA's Hope Award in 2009. Mindy was thrilled to have so many people from around the state come and help with her "children" for a day. Volunteers cleaned out the barns, replaced a wall of one of the bird enclosures, and of course, groomed any of the animals that were interested in the attention.
In between cleaning tasks and after the work was done, the MFA crew enjoyed interacting with the wide variety of sanctuary animals, which ranged from rabbits, chickens, and turkeys to pigs, sheep, and horses. For many volunteers, this was their first chance to meet a cow or a pig and they left with a new understanding of the creatures they speak up for so often in their daily lives.
Among the most amazing and charming experiences was watching best friends Wesley, a rescued "veal calf," who now weighs over 2000 pounds, and Chance, a pit bull, play together. Desh Rain, a Cincinnati volunteer, summed up the day nicely: "What a beautiful place, people, and souls."
Feeling inspired? Check out MFA's
events pages
to learn about happenings in your area. For more information on volunteering with MFA,
click here
.