2011 was another groundbreaking year for Mercy For Animals! With the help of amazing volunteers, donors and supporters, we were able to confront horrendous cruelties, while opening the hearts and minds of millions of people to the plights of animals raised and killed for food.
Expanding our innovative grassroots campaigns and critical undercover investigations across the country, MFA has been taking effective animal advocacy to a whole new level.
In 2011, MFA: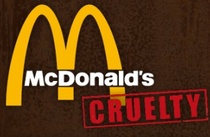 1 - Exposed McDonald's' rotten treatment of egg-laying hens
MFA's undercover investigation into a McDonald's egg supplier
, Sparboe Egg Farms, exposed the fast-food giant's secret ingredient: shocking cruelty to animals. Garnering massive mainstream media attention worldwide and raising awareness among millions of people about the plights of egg-laying hens, the investigation also prompted McDonald's, Target, Sam's Club and other major retailers to drop Sparboe as an egg supplier.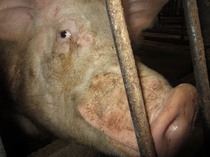 2 - Uncovered shocking cruelty to animals at Iowa's largest pig factory farm
Revealing horrifying abuses, including piglets having their tails cut off and their testicles ripped out without painkillers, and mother pigs confined for life to barren metal crates barely larger than their own bodies, MFA's
undercover investigation at Iowa Select Farms
sent shockwaves through the industry and led the largest grocery chains in the nation to take action.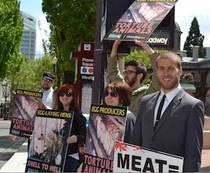 3 - Created the eye-opening documentary Farm to Fridge
Since its release in early 2011,
Farm to Fridge
has reached more than 4 million viewers and has inspired countless people to ditch meat, milk and eggs for good. MFA also took the life-changing film on a 3-month, 12,000-mile road tour to more than 40 cities across the country - creating a high-impact spectacle at busy college campuses, shopping centers, sporting events and other public places.
4 - Launched three cutting-edge, pro-vegetarian advertisements on MTV
Running ads alongside those for KFC and McDonald's, MFA launched an ambitious
national television ad campaign
that is bringing millions of young consumers face to face with the harsh reality animals suffer before becoming their breakfast, lunch, or dinner. Aimed at the youth demographic, which is typically most receptive to animal welfare issues, MFA's powerful new MTV ad campaign is changing minds and saving lives.
5 - Held over 1,500 vegetarian outreach events - promoting kindness and inspiring compassion from coast to coast
With the help of a growing team of dedicated volunteers, MFA more than doubled the number of outreach events it held in 2011. From
educational exhibits
to
parade marches
,
humane education lectures
to
leafleting events
, MFA is giving a powerful voice to farmed animals across the country.
6 - Released the first-ever undercover investigation into a fish slaughter facility
Exposing the violent manner in which these sensitive and intelligent animals are killed for food, MFA conducted a
groundbreaking fish slaughter investigation
at a fish factory farm in Texas. Hidden-camera footage revealed shocking cruelty, including workers cutting, slicing, skinning, suffocating and dismembering live and fully conscious catfish - an excruciatingly painful practice harshly condemned by veterinarians. MFA called on Texas House and Senate members to ban the skinning and
dismembering of all live, conscious animals.
7 - Exposed millions to the plights of farmed animals with our powerful bus, billboard, and magazine ads
MFA's powerful ads spoke up for farmed animals and urged Americans to "Choose Compassion, Choose Vegetarian" in
California
,
Colorado
,
Michigan
,
Illinois
and
North Carolina
, while our
edgy anti-milk ad in Ms. Magazine
offered a pro-woman, pro-animal response to controversial and sexist PMS-themed ads by the milk industry.
8 - Expanded our lifesaving campaigns to the West Coast, opening our newest advocacy center in Los Angeles
Following a hugely successful
fundraising event with Bob Barker
in the Hollywood Hills, MFA opened its newest advocacy center in Los Angeles. Under the direction of
Steve Erlsten
, our new Los Angeles Campaign Coordinator, MFA is bringing its message of compassion for farmed animals to the Golden State.



9 - Took on a Texas calf factory farm, and won
MFA's undercover investigation into E6 Cattle Company
in Texas, where workers used pickaxes and hammers to bash in the skulls of baby calves, sparked international outrage and led to a historic five felony and two misdemeanor cruelty-to-animals charges against the owner and employees.
10 - Rescued four baby calves - taking them from harm to harmony
Thanks to
the brave efforts of an MFA investigator
, four baby calves - Ari, Mercy, Bob, and Roy - were pulled out of a living nightmare at E6 Cattle Company and are now living out their lives in peace and freedom at a sanctuary in California.
11 - Named Nonprofit of the Year
The first organization to receive the honor twice, MFA has been named
Nonprofit of the Year
by
VegNews
magazine for "fast-tracking the vision of animal protection's promising future to the present."
MFA's
groundbreaking undercover investigations
have indeed led to landmark criminal prosecutions of animal abusers, and our creative and effective
grassroots vegan advocacy
work has also inspired countless people to choose compassion over cruelty in cities across the country.
Mercy For Animals will continue to be a voice for the voiceless and we are determined to put an end to needless animal suffering at the hands of the meat, dairy and egg industries. But we can't do it without your support.
Thank you for making 2011 a landmark year for animal rights!
Please stand by our side
as we work to give farmed animals the power and effective voice they deserve in 2012.