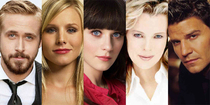 As we close in on another exciting year of groundbreaking undercover investigations, landmark criminal cruelty convictions, corporate policy reform successes, and inspiring advocacy campaigns, we also celebrate the MFA blog. Over the past year, MFA's blog has been home to hundreds of posts sharing riveting news, scandalous corporate corruption, vegan celebrity stories, and reports tracking MFA's mainstream media coverage around the globe. Thank you all for an incredible year!
Here are our top 12 blog posts of 2012:
1. Celebrities Speak Out: Walmart Pork is Cruelty on a Fork

2. Butterball Employees Arrested for Cruelty to Animals Following MFA Investigation

3. Illegal Slaughter Operator Pleads Guilty to Felony Animal Cruelty, Sentenced to Jail

4. Making History: Butterball Case Marks First-Ever Felony Conviction for Cruelty to Factory-Farmed Birds

5. How "Big Ag" Bought Iowa's "Ag-Gag" Law

6. Spanish Pig Farm Brutality Exposed

7. LA Smog Linked to Dairy Farms

8. Scientific American: Eating Meat Hurts the Planet

9. Rev. Al Sharpton and Others Resolve to Go Veg in 2012

10. Video: Shocking Cruelty Revealed at Britain's Third-Largest Pork Supplier

11. Could Vegan Be the New Viagra?

12. MFA Adopts Pig As Birthday Gift for Walmart CEO

Stay tuned to
MFABlog.org
for all the latest vegan- and animal rights-themed news. Don't forget to share your favorite MFA blogs with friends on Facebook and Twitter.