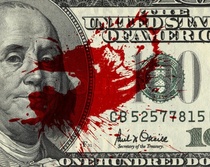 According to
a recent media report
, many of the lawmakers behind Idaho's "ag-gag" bill--which would prohibit taking pictures or video to expose animal abuse at factory farms--have received massive campaign contributions from the dairy industry. In fact, as documented by the nonprofit National Institute on Money in State Politics in 2012, Idaho's agricultural lobby paid more than half a million dollars to political powers in the state.
Why the hush money?
Because the dairy industry is desperate to keep its horrific practices hidden from public view.
In 2012, Mercy For Animals' undercover investigation of Bettencourt Dairies, the largest dairy factory farm in Idaho, revealed workers viciously beating, kicking and stomping on cows, dragging an injured cow by her neck using a rope attached to a tractor, and even sexually abusing a cow. This investigation led to criminal charges against multiple workers from the facility.
Having passed both the House and Senate, the ag-gag bill now sits on the desk of Governor "Butch" Otter who also took money from the dairy industry. It remains to be seen whether Governor Otter bows to corporate pressure or instead protects the health and safety of Idaho's citizens and animals by vetoing this despicable bill.
What You Can Do:
Contact Governor Otter by signing
the petition
and making a brief, polite phone call at 208-334-2100, even if you have done so already. Urge him to veto the disgraceful ag-gag bill (Senate Bill 1337).