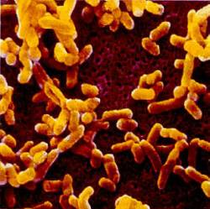 According to
ABC News
, a new study released by
Consumer Reports
found that the majority of pork products it investigated in US grocery stores were contaminated with the dangerous bacteria yersinia, a food-borne pathogen largely unknown to most consumers.
The bacteria, which infects over 100,000 people each year, was discovered in almost 70% of the nearly 200 pork products tested, including pork chops and ground pork.
Yersinia poisoning
can lead to fevers, cramps, and bloody diarrhea that can last up to three weeks.
"This should be a wake-up call to the American public," said Dr. Urvashi Rangan, one of the authors of the study. "It shows that there needs to be better hygiene at animal plants. Yersinia wasn't even being monitored for."
ABC News reports that while cooking the pork thoroughly kills yersinia, the bacteria can easily be spread by cross-contamination. The study also found other harmful bacteria in the meat samples, including
salmonella
,
listeria
, and enterococcus - a pathogen linked to urinary tract infections.
The good news is that it is easy to safeguard your health and prevent needless cruelty to animals by simply transitioning to a
compassionate vegan diet
.
Visit
ChooseVeg.com
for healthy and delicious plant-based recipes and instructional cooking videos.