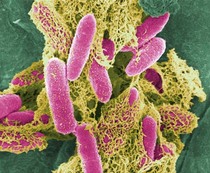 According to a new study reported on
NPR
, some chicken is contaminated with the same strains of antibiotic-resistant E. coli found to cause recurring human bladder infections. Researchers say it is likely that the E. coli strains are being transferred to humans through the consumption of infected birds.
Maryn McKenna, journalist with the
Food and Environment Reporting Network
and author of
SUPERBUG
, says consumers should be concerned. Strains of the bacteria create infections that spread from the gut to other areas of the body. "Because of this decade of research," adds McKenna, "there is now abundant epidemiologic evidence that this bacterial traffic is occurring."
The broad-scale use of antibiotics on factory farms to promote rapid growth and fight off illnesses induced by filthy, disease-ridden, and overcrowded living conditions is in great part responsible for creating antibiotic-resistant superbugs, making these same antibiotics less effective at treating human illnesses. According to
ABC News
, these particular strains of E. coli are linked to a troubling rise in the occurrence of "painful and long-lasting bladder infections" that are increasingly difficult to treat with antibiotics.
Thankfully, an easy and effective way to safeguard your own
health
and prevent the needless
suffering of animals
is to choose
plant-based alternatives
to disease-infested meat, dairy, and eggs.
For information and tips on protecting your health and helping animals by adopting a plant-based lifestyle, visit
ChooseVeg.com
.