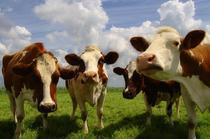 With two stories this week about the negative impacts of eating meat, NPR spotlights the health risks, environmental damage, and animal cruelty associated with raising animals for food.
According to the first article, a
new poll
indicates that meat consumption in the United States continues to drop. The NPR-Truven Health Analytics Health Poll surveyed 3,000 adults nationwide and found that thirty-nine percent are eating less red meat now than they did three years ago. When asked about their motivation, sixty-six percent cited the
health benefits
, thirty percent cited
animal welfare
, and twenty-nine percent cited
concern for the environment
.
The
second article
states that "meat has more of an impact on the environment than any other food we eat." To make one quarter-pound hamburger, it says it takes seven pounds of grain, fifty-three gallons of water, seventy-five square feet of land, and 1,036 BTUs of energy - clearly a strain on the environment. This data matches the United Nations report, which found that raising animals for food generates
more greenhouse gases
than the entire transportation sector.
With these two news stories, NPR also highlights the fact that in addition to the
growing number of vegetarians
in the United States, many more Americans are simply eating more vegetarian meals. They are certainly in good company, joined by high-profile celebrities, such as
Meredith Vieira
,
Michelle Pfeiffer
, Bill Clinton,
Ellen Degeneres
, and Russell Simmons.
For delicious recipes and helpful tips on transitioning to a healthy and humane way of living, check out
ChooseVeg.com
.