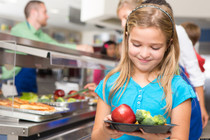 Recognizing
the health benefits
of vegetarian eating, and that its students enjoy eating meatless meals, elementary Public School 244 in Queens, NY, recently became the first public school in the country to implement an all-vegetarian menu for its cafeteria, drawing the attention of the
Wall Street Journal
,
ABC News
,
NBC News
, and hundreds of other media outlets via the Associated Press.
Active Learning Elementary School, also known as P.S. 244, in Flushing, Queens, has prioritized healthy eating and began offering occasional vegetarian meals. Gradually the school increased its vegetarian meals as it became clear that the students enjoyed the healthier lunches.
"The founding of our school was based on health and nutrition and teaching kids how to make healthy choices in the belief that they would be more successful academically and in their life," school principal and co-founder Robert Groff said. "We discovered early on that our kids were gravitating toward our vegetarian offerings, and we kept expanding the program to meet the demand."
The new veg menu, including meals such as sesame tofu, braised black beans with plantains, and falafel with cucumber salad, has been received very well--much better than the "mystery meat" in a typical school lunch. As nine-year-old Marian Satti squealed to a reporter about her lunch, "This is so good!"
Schools Chancellor Dennis Walcott had lunch at the cafeteria and praised the effort, calling on other schools to follow P.S. 244's lead. "That's what we want for our students... to make sure they eat healthy both at home and school," he said.
New York City mayor Michael Bloomberg has made healthier eating and addressing childhood obesity a priority, resulting in salad bars at 1,000 city public schools.
Plans are in the works
to expand this effort such that there will be salad bars at all 1,800 New York City public schools by the end of the next school year.
If you want to start eating as healthy as the kids of P.S. 244, while also
helping animals
and
the planet
, you can order a free
Vegetarian Starter Guide
or visit
ChooseVeg.com
.