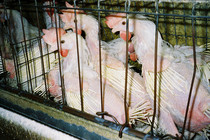 Ohio Fresh Eggs, the largest egg producer in Ohio, has been ordered to pay a civil penalty of $635,000 to settle 71 allegations of violations of Ohio Department of Agriculture and Ohio Environmental Protection Agency laws, regulations and permit restrictions.
No stranger to bad publicity, Ohio Fresh Eggs, formally known as Buckeye Egg Farm, has a sordid history of violating environmental standards, sexual harassment of workers, and cruelty to animals. The facility even has ties with
Austin "Jack" DeCoster
, the infamous businessman behind
Quality Egg of New England
- the facility that was
raided
by state officials following an MFA undercover investigation in Maine.
In 2009, Ohio Fresh Eggs
pled guilty
in court and was fined $300,000 for clean water violations and just last year the company was back in the spotlight after more than a
quarter million salmonella-contaminated eggs were recalled
from its central Ohio facility. Ohio Fresh Eggs was also the subject of a
2004 MFA undercover investigation
, which revealed hundreds of thousands of egg-laying hens with broken, damaged, and feces-covered feathers packed into battery cages so small they couldn't spread their wings, and chicken corpses left to rot in cages with birds still producing eggs for human consumption.
Sadly, Ohio Fresh Eggs' dirty practices are just par for the course in the egg industry. The best action caring consumers can take to safeguard their own health and the environment and to help prevent needless cruelty to millions of animals is to adopt a compassionate vegan lifestyle. For egg-free recipes and tips on cooking without eggs,
click here
.