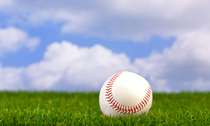 Play ball! A new baseball season is upon us, and every team has dreams of making it to the World Series. Thankfully, at every Major League Baseball game, veg-friendly food options are available to keep compassionate and health-conscious fans of America's pastime happy and full while rooting for their favorite teams.
An indication of the national mainstream popularity of vegetarianism, this season every single MLB game day will include veggie burgers, veggie hot dogs, both, or other exciting veggie options!
Attendees of the San Francisco Giants game will not only enjoy delicious
Field Roast
brand veggie dogs and burgers, but also thai yellow curry with tofu, edamame, vegetarian pot stickers, veggie tamales, tomato bisque soup, grilled vegetable sandwiches, and more!
Fans of the St. Louis Cardinals--winners of the World Series in 2011 (when they were managed by vegetarian, animal advocate, and
future Hall-of-Famer Tony LaRussa
)--can indulge in Busch Stadium's vast array of incredible vegan options: southwest chipotle veggie chicken sandwiches, asian vegetable stir fries, wild mushroom and potato hash, pasta with marinara sauce, fresh wraps, and more!
And crowds at the Detroit Tigers game can partake of veggie italian sausage, vegan riblet sandwiches, vegetarian sushi platters, and veggie trays with hummus, just to name a few of the event's fabulous vegan offerings!
Is it a coincidence that some of the best teams in baseball also have the best vegan options at their games?
Premiering this season
at Wrigley Field, home of the Chicago Cubs--notorious for not winning the World Series since 1908--is a new veggie hot dog to go along with the ballpark's other vegetarian items, which include a "Sloppy Jane" sandwich made from barbecue tempeh. Maybe word is out that there could be a correlation between great vegan options and success in the field?
Whether you want to
eat more healthily
,
protect the planet
, or
spare animals from cruelty
, leaving meat off your plate--or those little cardboard trays they give you at the stadium--has never been easier. Order your free
Vegetarian Starter Guide
or
check out the vegan options at a ballpark near you
.