MFA took the Northeast by storm over the past few weeks, conducting a series of thought-provoking "Why Love One but Eat the Other?"
demonstrations
- featuring a massive inflatable puppy crammed inside a hamburger bun - to spark debate over why we call some animals pets and others dinner. At each stop, MFA's national campaign coordinator
Phil Letten
was joined by local activists wielding signs that read, "Boycott animal abuse. Choose vegetarian."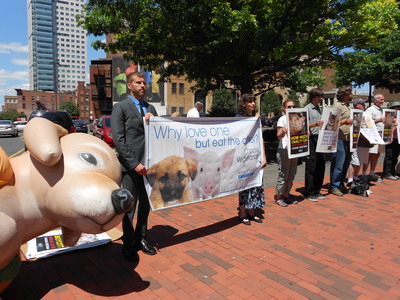 The Northeast tour took our compassionate message to the Maryland, Pennsylvania, and Rhode Island cities of Baltimore,
Philadelphia
,
Scranton
, Harrisburg, and
Providence
, and the Massachusetts, Connecticut, and New York cities of Boston,
Hartford
,
Albany
, and
Binghamton
, as well as the New York City borough of Brooklyn, where our crew held a protest against
Nathan's Famous International Hot Dog Eating Contest
.
Each of our head-turning demonstrations attracted countless passersby, and everyone was encouraged to adopt a kind and compassionate
vegetarian diet
, as it's the most powerful action we can take to prevent
animal abuse
.
"Factory-farmed animals are forced to spend nearly their entire lives crammed inside tiny crates that are barely larger than their bodies," said Phil in an interview with
CBS Radio
, Philadelphia's largest talk radio station. "They are mutilated without painkillers and forced to endure a brutal slaughter at the slaughterhouse."
To learn more about the health, environmental, and ethical benefits of plant-based eating, visit
ChooseVeg.com
.