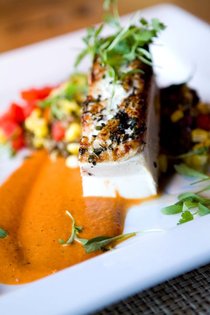 Given the well-documented
decline in US meat consumption
and overall
reduction in demand for meat
, it is no surprise that several publications that analyze food trends are predicting the increased consumption of vegetarian and vegan products as a top food trend for 2013.
In its "Top Ten Food Trend Predictions for 2013,"
Supermarket News
magazine predicts the rise of "new proteins," stating that "a major shift is anticipated in the nation's protein food supply away from meat-based proteins and shifting to meatless proteins." The meatless proteins specifically named include tofu, nut butters, legumes, and beans. The magazine also predicts "an increase in awareness and consumption of vegetarian and vegan meals" and anticipates that baby boomers will be more mindful of healthy eating due to high rates of cancer and heart disease in their age demographic, recognizing that "people who tend to eat low-fat diets rich in fruits and vegetables tend to have a decreased risk of cancer and heart disease."
Restaurant Magazine
also predicts that 2013 will be a big year for plant-based eating. Its top trend for the year ahead is that vegetables will "take their star turn." According to the magazine, "As more diners discover the joys of occasional meatless meals, the flirtation with vegetarian fare evolves into flexitarian fascination with actual vegetables. ... Vegetables at the center of the plate are welcomed by diners--who continue to seek fresh, local, healthful fare--as well as operators squeezed by rising costs for proteins."
Yet another significant trend predictor, major food consulting and strategy firm
Sterling-Rice Group
, foresees in its top 10 food trends of the year ahead that veggies, "[n]o longer prepared as just a side or salad," will "take over the plate" and "get their chance to star as the main dish." It also predicts as a top trend that "[f]rom gluten-free to vegan, more and more restaurants will offer all-inclusive menus and services to accommodate all eaters" and there will be "no diner left behind."
As more and more people learn about the
horrific treatment of animals
on factory farms and the
health benefits
of eating less meat, they are choosing plant-based meals. For tips on joining the trend toward veg eating, visit
ChooseVeg.com
.
Photo courtesy of Sylvia Elzafon.