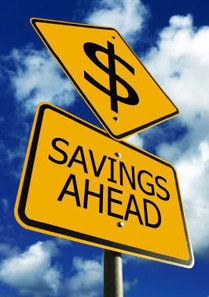 After coming across these great articles on
Huffington Post
and
NutritonFacts.org
, I started thinking about all the amazing ways being vegan helps me save money. Here are my top tips for being plant-based on a budget:
Cook! You know that big white thing in your kitchen with four burners on top? It's called a stove. Invest a few hours in learning how to use it. Everyone knows that eating in saves tons of cash. Pick up a discounted cookbook or check out ChooseVeg.com for some fast and easy recipes and get cookin'.
Make a Shopping List. Sitting down and thinking about what you need from the store will not only help you stay within your budget, it'll keep you from impulse buys once you're at the supermarket. Make a list and stick to it.
Back to Basics. The least expensive items in the supermarket are the ones that don't come in a box. Fresh fruits and vegetables, grains, and beans are not only healthy for you, they're also super affordable. Make sure to go online and find a local farmer's market. Befriending a farmer and eating in season are more surefire ways to save cash.
Be a Globetrotter. You don't have to travel the world to enjoy international cuisine. From mexican to chinese, try your hand at dishes like bean enchiladas or kung pao tofu. They're easy to prepare, tasty, and inexpensive. Also, look for affordable, vegan-friendly ethnic restaurants in your neighborhood on VegGuide.org.

Cook in Large Batches. If finding time to cook each day is challenging, schedule one or two kitchen days each week and cook in large batches. You can easily take leftovers for lunch or reheat them for an easy and quick dinner.
Plant a Garden. Even if that means just having five pots of nothing but tomatoes. This will save you money in the produce department, and you can't get any more local!
For more delicious vegan recipes and tips on cruelty-free eating, visit
ChooseVeg.com
.