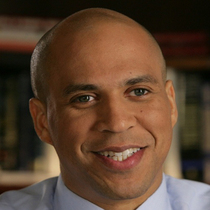 There's no question that Hollywood celebrities help set trends. That's why A-listers like Anne Hathaway and Jessica Chastain, who both walked away with Golden Globes a couple of weeks ago, made waves when they became vegan. But now politicians, from mayors to presidents, are jumping on the veg train and spreading the word far and wide.
The whole world was atwitter when
Bill Clinton announced
he had transitioned to a plant-based diet a couple of years ago. Clinton attributed his greatly improved health and energy level to his new lifestyle. That same year, his daughter, Chelsea, held a lavish
vegan wedding
in New York.
Rising political star and mayor of Newark, New Jersey, Cory Booker
has been vegetarian for 20 years
. Although he mainly attributes his decision to eschew meat to his desire to improve his athletic performance, he's also stated that becoming vegetarian was what was "best" for him, as it "comported with other values and ideas" he was exploring at the time.
Ed Smith, the mayor of Marshall, Texas,
went vegan
with his wife after being diagnosed with prostate cancer. He and his wife credit their new plant-based diet with reversing his illness. In his small town in east Texas, veganism was virtually unheard of. But Mayor Smith has changed all of that. In 2010 he started Get Healthy Marshall, a non-profit that now hosts the
New Year, New You Health Fest
, a conference that brings together from all over the country people interested in meat-free living.
Maryland state senator Jaime Raskin, a self-described passionate carnivore, challenged himself to go vegetarian
for one week
back in 2009. Raskin became so enthusiastic he never looked back. Four years later, he's still veg and speaks regularly at veg events. He recently exhorted to eager listeners: "Vote not just with your dollars, but with your whole life. That's what I'm trying to do by being a vegetarian."
In his book
Dominion
--a magnificent and hard-hitting argument for veganism through a religious lens--Matthew Scully, speechwriter for President George W. Bush, Sarah Palin, and Paul Ryan, writes: "Factory farming isn't just killing: It is negation, a complete denial of the animal as a living being with his or her own needs and nature."
When political figures speak out about their choice to follow a healthy, meat-free diet, it prompts people to explore how their own food is sourced and how animals on factory farms are treated. This heightened awareness is the first step toward getting people to consider the plight of farmed animals and make cruelty-free food choices.
For more information on how you can vote with your food dollars, visit
ChooseVeg.com
for healthful and compassionate vegan recipes.