Dozens of newly erected Mercy For Animals advertisements are urging commuters on the New Jersey Transit rail system to ditch meat in place of a compassionate, vegetarian diet.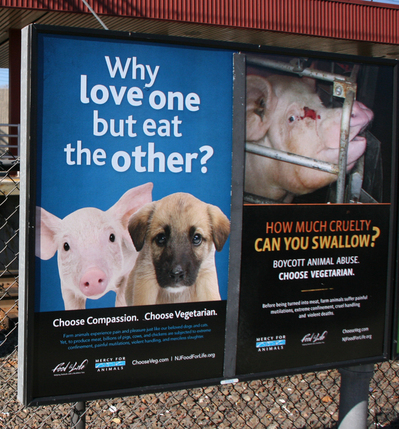 Expected to amass over 15 million views in the next month, the campaign consists of a series of ads at rail stops along the North Jersey Coast Line, asking, "Why love one but eat the other?" and starring an adorable puppy and loveable piglet. The other ads feature an image of a sow locked inside a tiny metal crate on a factory farm, and pose the question, "How much cruelty can you swallow?"
MFA has run similar effective campaigns, encouraging consumers to "Choose compassion, Choose vegetarian," in
New York City
,
Chicago
,
Boston
,
Michigan
,
Denver
,
Las Vegas
,
Toronto
and
Toledo
.
The campaign is co-sponsored by the
Animal Protection League of New Jersey
as part of their
Food for Life campaign
.