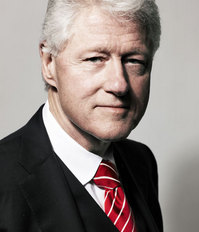 In the wake of Chelsea Clinton's
vegan-friendly wedding
, former U.S. President Bill Clinton claims that he is experimenting with a mostly vegan diet.
In a
recent interview
with the Huffington Post and Yahoo! News, Clinton was asked if he was vegan or vegetarian, and he replied:
Yeah, pretty much. Once in a while I'll eat fish but not often, because I'm trying to be one of those experimenters. Since 1986, several hundred people who have tried essentially a plant-based diet, not ingesting any cholesterol from any source have seen their bodies start to heal themselves and break up the arterial blockage, break up the calcium deposits around the heart. 82% of the people who have done this have had that result so I want to see if I can be one of them. I've got to do it a few more months before we'll have any idea if it worked.
Former president Clinton joins a number of influential political figures who've opted for a
plant-based diet
, including Congressman Dennis Kucinich, political activist and author Dick Gregory, former member of the New Zealand parliament Ruth Dyson and Lord Stern of Brentford.