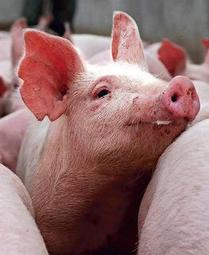 On Monday, Safeway Inc., the second-largest grocery chain in the United States, with over 1,600 locations nationwide,
announced it will begin formulating plans
to have a gestation crate-free supply chain.
Safeway's pledge to abandon the sale of pork from suppliers who cruelly confine sows in narrow gestation crates comes on the heels of similar announcements in recent months by
McDonald's
,
Burger King
, Wendy's, and
Compass Group
- the largest foodservice company in the world.
We hope that this promising news from Safeway sends a strong signal to the pork industry that confining pigs in crates so small they cannot even turn around or lie down comfortably is blatant animal abuse that will not be tolerated by socially responsible grocers. Major grocery chains like Walmart, Kroger and Costco should quickly follow Safeway's lead in taking a stance against inherently cruel gestation crates.
"Mercy For Animals is cautiously optimistic about Safeway's plan to move toward a gestation crate-free supply chain. The pork industry's use of gestation crates is one of the worst forms of institutionalized animal abuse in existence and we praise Safeway for acknowledging that this cruel system is unsustainable and must be phased out," said MFA's executive director Nathan Runkle. "By speaking out against these inherently cruel crates, Safeway is taking a positive step forward in improving animal welfare. We hope this announcement is more than PR hogwash and that Safeway acts quickly to remove these cruel confinement systems from its supply chain to spare millions of animals horrific misery and suffering."
Last year an MFA
undercover investigation into Iowa Select Farms
, one of Safeway's pork suppliers, not only found thousands of sows living in narrow metal gestation crates, but also revealed pigs suffering from untreated pressure sores, bleeding uterine prolapses, chronic lameness and severe psychological distress.
While the elimination of
gestation crates
may reduce animal suffering, the best way to withdraw support of animal abuse altogether is by adopting a kind and compassionate vegetarian diet.
For delicious, cruelty-free recipes, visit
ChooseVeg.com
. For your free
Vegetarian Starter Kit
,
click here
.