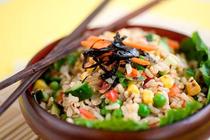 A
recent article
in the
Chicago Tribune
by registered dietitian Sharon Palmer touts the benefits plant-based eating can have on good prostate health. Palmer points to recent scientific studies that show the best prevention for prostate cancer lies in consuming plant-based foods.
The article cites Karen Collins, a nutrition advisor for the American Institute for Cancer Research, who promotes a healthy diet of vegetables, fruits, and whole grains as a fundamental for prostate cancer prevention. Lycopene-rich tomatoes, in particular, have been associated with lower incidences of prostate cancer. Collins says, "Lycopene does seem to offer benefit, both as antioxidant and through direct impact on cancer cell growth and development." Moreover, Collins underscores how eating healthily contributes to maintaining an optimal weight, in turn contributing to preventative prostate health.
Doctors have also found cancer-fighting properties in cruciferous vegetables, such as broccoli, brussels sprouts, kale, and bok choy.
As scientific research continues to show the benefits of plant-based eating, scientist are also finding serious health risks linked to consuming
meat
,
dairy
, and
eggs
. Thankfully, it's never been easier to adopt a healthy and humane plant-based lifestyle.
Visit
ChooseVeg.com
for hundreds of delicious and helpful
tips
on healthy living.