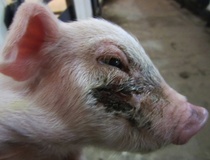 Despite the valiant efforts of MFA supporters nationwide
, Iowa Governor Terry Branstad has bowed to pressure from "Big Ag" and failed Iowans, Iowa's farmed animals, and the American people, by signing into law a bill that makes criminals out of undercover investigators who expose cruelty to animals, corporate corruption, dangerous working conditions, environmental violations, or food safety concerns at factory farms.
Click here for a statement from Nathan Runkle, Mercy For Animals' executive director.
What are pro-factory farm interests in Iowa trying so desperately to hide? See for yourself, and then help expose Iowa's dirty secret by sharing this video with the world:
Not a single federal law protects farmed animals from abuse or neglect during their lives on factory farms and Iowa specifically excludes farmed animals from protection against even some of the worst forms of factory farm cruelty. But instead of strengthening its pathetic laws to protect animals and consumers, Iowa lawmakers are attempting to silence undercover investigators who expose cruel and even criminal activities at factory farms.
Undercover investigations by Mercy For Animals
and other groups have led to landmark corporate animal welfare policy reforms, new and improved laws to protect farmed animals and the environment, felony convictions of animal abusers, increased consumer protection and food safety initiatives, and the closure of particularly corrupt facilities. Without undercover investigations, there are oftentimes no effective watchdogs protecting animals from egregious cruelty in these facilities.
It is now more important than ever before to expose the cruel and corrupt practices of factory farms nationwide.
What You Can Do:
Expose Factory Farm Cruelty
-
Please share this video
with as many people as you can and help expose the cruel and corrupt practices of Iowa's factory farming industry.
Stop the Ag-Gag
- Harmful and unconstitutional whistleblower-suppression legislation is now being considered in the following states. If you live in one of these states, please take action below:
Illinois: HB 5143 - Take Action

New York: S 5172 - Take Action

Utah: HB 187 - Take Action

Indiana: SB 184 (bill pending)

Minnesota: HF 1369/ SF 1118 (bill pending)

Missouri: SB 695 (bill pending)

Nebraska: LB 915 (bill pending)

Choose Vegetarian
- Every time we sit down to eat, we can choose compassion over cruelty. Adopting a diet free of meat, dairy and eggs is perhaps the single most important and powerful action you can take to prevent needless cruelty to animals. Visit
ChooseVeg.com
to learn more.
Make a Donation
-
Please consider making a tax-deductible donation
to help Mercy For Animals continue our vital work to expose and end cruelty to animals.