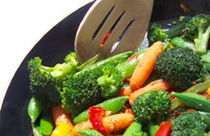 Earlier this year,
Sodexo
, one of the world's largest food service providers, feeding 10 million people a day,
announced
its participation in the rapidly growing
Meatless Monday
campaign by introducing vegetarian meals at 900 hospitals. Now, the company is expanding its Meatless Monday program to an
additional 2,000 corporate and governmental clients
, offering vegetarian meals to tens of thousands of people every week.
Will Nicklas, Corporate Manager of Toyota Motor Sales, Inc., a Sodexo client, says Meatless Monday "... is a simple way for us to address the dietary concerns of our customers and in part advance our own environmental objectives."
But Sodexo isn't stopping there. In the fall, the company plans to extend the campaign to its college and school cafeteria clients and to begin pilot programs in senior living facilities in 2011.
Sodexo isn't the only one joining in on the popular Meatless Monday trend. Since 2003, dozens of colleges, high schools, cities, restaurants, chefs, celebrities, and magazines have adopted Meatless Monday to reduce animal suffering, combat global warming, and to promote healthy eating. The list includes, but is not limited to: Baltimore City Public Schools, Sir Paul McCartney, PUMA, AARP, Chef Mario Batali, the city of San Francisco, and John Hopkins University. Read the full list
here
.
This rapid expansion of meatless meals is undoubtedly sparing countless animals from a lifetime of suffering on
factory farms
, helping to ease the strain animal agriculture has on the
environment
, and
improving the health
of millions of people.
Have you encouraged your friends and family to start Meatless Monday yet? It's an easy and fun way to transition to a healthy and compassionate vegan diet. Visit
ChooseVeg.com
for free recipes, nutritional information and more.