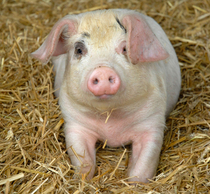 Yesterday, Sonic Corp. - the largest drive-in restaurant chain in the United States - announced plans and a timeline for working with its suppliers to eliminate gestation crates from its supply chain.
According to
Sonic's Animal Welfare Goals and Mission document
, "Sonic is actively working to eliminate gestation crates from its pork supply chain, and intends to reach that goal no later than 2022, although is working toward 2017, the timeframe several large pork producers have set to be fully transitioned to group sow housing. Sonic will continue to favor suppliers that raise hogs in a gestation crate-free environment in addition to suppliers that can provide audit and tracking reports for sourcing crate-free pork."
Mercy For Animals praises this move by the drive-in chain, but remains cautiously optimistic. Sonic becomes the latest business to commit to a 100% gestation crate-free supply chain policy, following similar recent announcements by
McDonald's
, Wendy's,
Burger King
, and
Tim Hortons
, casual dining restaurants, such as
Cracker Barrel
, and foodservice companies and retailers, such as
Compass Group
,
Bon Appétit Management Company
,
Safeway
, and
Kroger
.
We hope Sonic's announcement will encourage other food distributers, including Walmart, Kmart, Costco, Domino's, Cheesecake Factory, Starbuck's, and countless others, to make similar commitments to phase out gestation crates from their supply chains in the near future.
To help eliminate crated pork from the United States' supply chain, ask your local restaurants and grocers about their animal welfare practices and urge them to move away from cruel gestation crates. You can also encourage friends, family, coworkers, and neighbors to adopt a pork-free vegetarian diet. For delicious, cruelty-free recipes, visit
ChooseVeg.com
. For your free
Vegetarian Starter Kit
,
click here
.