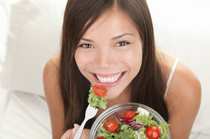 The snow is melting, the days are growing longer, and the flowers are beginning to bloom. Spring is here! It's time to clean out your closets, get organized, and go outside. It's also the perfect time of year to transition to a clean, green, and tasty vegan diet. Need some tips to help get you started? Look no further.
First, don't panic. Adopting a plant-based diet is not only delicious, it's also easier than ever and the best choice you can make for your health, the environment, and the animals.
Next, find amazing recipes online that are super easy to make. Blogs like Plant Based on a Budget focus on meals that help save you cash as well. Also, don't forget to check out the plethora of veg cookbooks from your library or local bookstore.
Don't feel like cooking? No worries. Visit VegGuide.org to find all the restaurants in your area that have incredible vegan options. Remember, almost any restaurant can prepare satiating, plant-based fare.
If you need an extra hand on your journey, find a guide. Colleen Patrick-Goudreau, author of The 30-Day Vegan Challenge, will send you inspiring emails every day with tips on staying veg.
Have fun! From Meetups to potlucks, vegetarians are everywhere. Expand your community and meet people who share your compassionate values. Relish in exploring new foods and flavors.
The hardest part of anything is getting started. Once you see how easy transitioning to a plant-based diet is, you'll wonder why you didn't do it sooner. For more information on going veg, including fantastic and fun recipes, visit
ChooseVeg.com
.