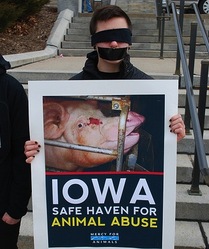 The meat, egg, and dairy industries are desperate to keep the public from learning about the abuse and suffering farmed animals endure behind closed doors. At the behest of the agricultural industry, several states recently introduced so-called "ag-gag" legislation, aimed at criminalizing undercover investigations and silencing those who dare to expose cruel, corrupt and even illegal practices at factory farms and slaughterhouses.
Due in large part to the compassionate MFA supporters who contacted their legislators, and the behind-the-scenes efforts of a
broad coalition of national groups
,
the shameful attempts by pro-factory farming legislators in several states
to criminalize such investigations have stalled out.
Earlier this year, the
Florida legislature removed the objectionable ag-gag language
from a larger omnibus agricultural bill after voters harshly criticized it. In
Indiana, the bill was denied a hearing and died in committee
. In Illinois,
the bill was tabled by its sponsor
, and Tennessee's ag-gag bill failed to garner support in the House of Representatives.
Nebraska's bill has been "indefinitely postponed," and in New York, bill sponsor Jean Richie withdrew her ag-gag from consideration, crediting animal advocates with alerting her to "Big Ag's" hidden agenda. And last week, in another victory for farmed animals, the Minnesota Senate adjourned without passing its ag-gag legislation. That's right. The Minnesota bill is dead!
Unfortunately, Missouri's ag-gag bill is still moving dangerously close to passage. If you are a Missouri resident, farmed animals need your continued support in fighting this bill. Please
click here
and take a few seconds to contact your representatives and tell them to focus on prosecuting animal abusers, not those who dare to expose them.
While most of these dangerous ag-gag bills have been defeated, and
despite the valiant efforts of MFA supporters nationwide
, Iowa and Utah have bowed to pressure from Big Ag, and put the interests of big business ahead of animal welfare, public safety, and our constitutional rights.
Both Governor Terry Branstad (Iowa) and Governor Gary Herbert (Utah) signed ag-gag legislation into law in early 2012. As reported in the
Des Moines Register
, the election campaigns for many of the Iowa legislators who supported the bill, as well as Governor Branstad himself, were heavily funded by agricultural interests, and ultimately, these legislators sold out their constituents and animals to such interests.
Not surprisingly, one of Governor Branstad's top campaign sponsors was Iowa Select Farms, the target of a 2011 Mercy For Animals undercover investigation. A quick look behind the scenes at Iowa Select shows what this cruel company is working so desperately to hide:
Time and again,
MFA's undercover investigations
at factory farms and slaughterhouses nationwide have revealed abuses that shock and horrify most Americans--which is why the animal agriculture industry is fighting so hard to keep the suffering of farmed animals hidden behind closed doors.
Not a single federal law protects farmed animals from abuse or neglect during their lives on factory farms and many states specifically exclude farmed animals from protection against even some of the worst forms of factory farm cruelty. But instead of strengthening laws to protect animals and consumers, corrupt legislators in some states are attempting to silence undercover investigators who expose cruel and even criminal activities at factory farms.
While most of these bills failed to pass this year, it is certain the powerful factory farming lobby is already hard at work ensuring they will be introduced again next year--making it even more vital that animal advocates continue to distribute undercover videos of factory farms, hatcheries and slaughterhouses and expose consumers to the cruelty inherent in animal agriculture. Now is the time to speak out!

Click here
to learn more about how you can help expose the truth that factory farmers are working so desperately to hide.