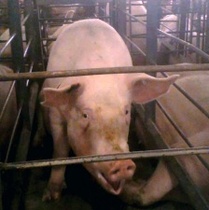 Growing more desperate by the year, the factory farming industry has been working overtime to keep the public from learning about the widespread animal abuse in the meat, egg, and dairy industries. To this end, Big Ag has pressured 11 states to introduce "ag-gag" bills aimed at criminalizing undercover investigations and silencing those who dare to expose cruel, corrupt and even illegal practices at factory farms and slaughterhouses.
Due in large part to the compassionate MFA supporters who called and emailed their legislators, and the behind-the-scenes efforts of a broad coalition of national groups, many of the shameful attempts by pro-factory farming legislators to criminalize undercover investigations have stalled out.
Yesterday, California's ag-gag bill was withdrawn by the bill sponsor, Rep. Jim Patterson, after a huge outcry of opposition from the public and several major media outlets including the
Los Angeles Times
, the
San Francisco Chronicle
, and the
Sacramento Bee
.
In Wyoming, where a recent undercover investigation led to
criminal convictions of workers at a pork supplier for Tyson Foods
, the ag-gag bill died in committee. In Arkansas, Nebraska, New Hampshire, New Mexico, Pennsylvania, and Vermont the ag-gag bills also seem to be dead in the water.
Unfortunately, ag-gag bills in North Carolina, Indiana and Tennessee are active and, in some cases, dangerously close to passing. Despite outspoken public criticism and a strong condemnation by the
Indianapolis Star
, Indiana's ag-gag bill has been passed by the senate and seems likely to pass in the house of representatives soon.
In North Carolina, where a recent
MFA undercover investigation at a Butterball factory farm
resulted in the arrest and conviction of multiple workers who were caught on video maliciously beating, kicking and stomping on animals, pro-factory farm legislators are pushing hard to pass a bill that would prevent further investigations from exposing cruel and illegal practices at farms in the state.
Finally, just today, Tennessee's ag-gag bill was narrowly approved in the state House by a single vote. The bill will now go to the desk of Governor Bill Haslam, who is expected to sign it.
But the bill hasn't been signed into law yet, and it is still receiving massive public criticism. The
Knoxville News Sentinel
has announced the newspaper will not obey the law even if it does pass and encourages others to do the same. And, according to the
Nashville Scene
and other Tennessee news outlets, country music sensation Carrie Underwood was quick to slam the state legislature and vowed to show up at Governor Haslam's doorstep if he doesn't veto the bill.
These desperate measures should make people wonder: What is the factory farming industry trying to hide? See for yourself:
What You Can Do to Help: