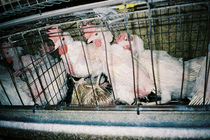 A
new graphic featured on AnimalVisuals.org
titled, "Battery Cages Increase Salmonella Risk and Harm Chickens," illustrates how industry-standard conditions for hens increase the likelihood of salmonella infection, according to the United States Department of Agriculture and other animal and health advocacy agencies in the U.S. and Europe.
According to the visual, factors contributing to higher rates of salmonella in caged versus cage-free egg production include stress, greater flock size, rodents and flies, the difficulty of disinfecting complex cage structures and the hens' lack of natural defenses against the bacteria.
The
AnimalVisuals.org
graphic also reveals that salmonella tops the list of "Top Causes of Food Poisoning-Related Death" and eggs top the list of "Top Salmonella Outbreak Vehicles."
Click here
to read more.