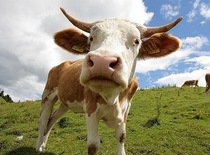 As Americans are becoming more aware of farmed animal cruelty - and stomach-churning meat industry practices like using "
pink slime
" and "
meat glue
," it's no wonder the demand for meat is slowly sinking.
According to a new study
compiling data by the USDA, National Center for Health Statistics, United Nations, and the U.S. Census Bureau, the average meat eater consumed fewer land animals in 2011 than any year going back to 2000.
In 2011, compared to 2010, the number of land animals that died for American consumption fell from 8.4 to 8.2 billion, or 242 million fewer animals - including 1 million fewer cows, 5 million fewer pigs, and 240 million fewer chickens. That's a nationwide drop from 8.9 billion in 2005 to 8.2 billion in 2011, or 725 million fewer animals killed.
While this drop in meat consumption is good news, the sad truth remains that billions of
animals slaughtered
for food continue to suffer intensive confinement, painful mutilations, brutal handling, and violent deaths. Visit
ChooseVeg.com
to find out how you can make a difference by switching to a cruelty-free, plant-based diet.
For your free
Vegetarian Starter Kit
, please
click here
.