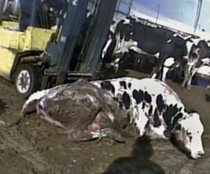 Striking a major blow to animal welfare and food safety, the Supreme Court recently overruled a California law requiring the humane euthanasia of downed livestock - animals who are too sick or injured to walk to the slaughterhouse kill floor. The decision effectively strips the state of its authority to prevent the needless suffering of sick animals or to ensure the safety of the human food supply.
The California state law went into effect in 2009, after an
undercover investigation
showed cows who were unable to walk off of the transport truck being prodded, bulldozed, and dragged to the slaughterhouse floor.
See the undercover investigation that led to the California law here:
This is a deeply troubling decision, preventing a wide range of actions by the states to protect animals and consumers from reckless practices by the meat industry, including the mishandling and slaughter of animals too sick or injured to walk.
The decision highlights the need for increased legal protections for farmed animals on a federal level. It is certain that the powerful factory farming lobby is hard at work undermining laws intended to prevent cruelty to animals - making it even more vital that animal advocates continue to pressure their elected officials, distribute undercover videos of factory farms, hatcheries and slaughterhouses, and expose consumers to the cruelty inherent in animal agriculture.
Now is the time to speak out! Visit
MeatVideo.com
and show your friends and family what the meat, dairy and egg industries desperately don't want to change.