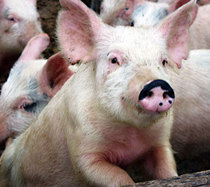 Yesterday Target
announced
that it would work with its vendors to eliminate gestation crates from its pork supply chain by 2022. As the fourth-largest retailer in the United States, and the second-largest discount retailer in the nation after Walmart, Target's commitment sends a clear message that the use of gestation crates is no longer acceptable in the American marketplace.
As Walmart's biggest competitor, we hope Target's announcement will make it obvious to Walmart that it must also commit to phasing out gestation crates. More than 30 other major food providers, including Costco, Kmart, Safeway, Kroger, Harris Teeter, and McDonald's, have all started demanding their suppliers do away with these cruel crates. Yet Walmart continues to support animal abuse--buying pork from suppliers that condemn intelligent and social animals to a lifetime of misery and deprivation inside tiny gestation crates.
MFA is calling on Walmart to quickly follow Target's lead in taking a stance against inherently cruel gestation crates. Mercy For Animals' national Walmart Cruelty campaign is aimed at pressuring Walmart executives to adopt a new policy requiring the company's pork suppliers to phase out gestation crates.
While retailers have incredible power to end some of the most egregious factory farming practices, consumers can also help prevent cruelty and promote compassion each time they sit down to eat by adopting a vegan diet.