Nearly 170 compassionate Ohioans descended into Columbus for a Vegan Thanksgiving Potluck hosted by
Mercy For Animals
,
Sunrise Sanctuary
and the
Columbus Vegan Meetup Group
. The guests were as varied as there are reasons to go Veg - families with children, seniors, college students, urban dwellers and suburbanites. This exemplifies the power of food to bring a community together.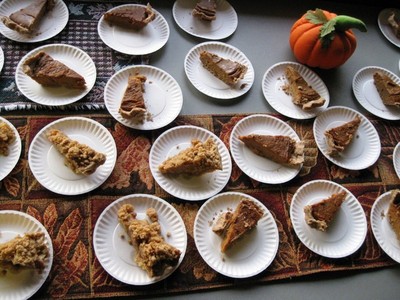 Hungry guests traveled from Cleveland, Akron, Dayton and Cincinnati to take part in this free community event. A line quickly formed after the doors opened, with guests carrying arms full of piping hot casseroles, mashed-potato-filled crock-pots, fresh baked rolls, kale and quinoa salads, candied yams using
Sweet & Sara vegan marshmallows
and other vegan twists on favorite homemade holiday recipes. The centerpiece of the meal was the dozen oven-roasted
Tofurky
and
Field Roast Celebration roasts
. Organizers had to continue to put tables together to accommodate all of the potluck dishes. In all, there were eight tables of savory and sweet foods!
From a tower of mini-cupcakes to two tables full of caramel corn and sliced
Pattycake Bakery
pumpkin pie, everybody was able to satisfy their sweet tooth - over and over again!
A festive raffle provided for entertainment as guests were given a chance to win free vegan cookbooks, t-shirts and gift cards donated by the Columbus Vegan Meetup Group. The event was such a hit, activists are already making plans for next year.
Satisfied guests returned home with the knowledge that you don't need animal products to capture the spirit and savory flavors of Thanksgiving at your celebration. To make your holiday meal a success,
click here
for recipes.