Veggie pride took the Big Apple by storm last weekend, as thousands of vegans, vegetarians and veg-curious people celebrated a jam-packed weekend of old-school fun, camaraderie, and pro-veg advocacy on the streets of New York City.
Veggie Conquest
hosted the second annual
Veggie Prom
in Brooklyn, where party-goers enjoyed beats by DJ Lil Ray, veg-friendly cocktails, and vegan munchies from the
V-Spot
,
Cocoa V
, and
Blossom Du Jour
. A portion of bar sales went to Mercy For Animals, and MFA's Executive Director Nathan Runkle picked up the "Best Dressed" award.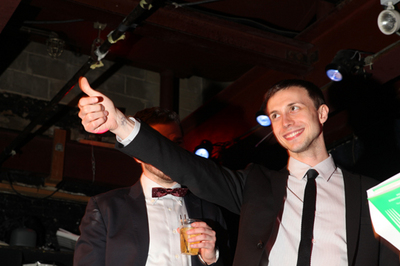 Vegan activists took to the streets of Manhattan at the fourth annual
Veggie Pride Parade
, where thousands of onlookers witnessed compassion in action. Marchers donned colorful veggie costumes and distributed literature detailing the plight animals face on factory farms.
Immediately following the parade, thousands of people gathered at Union Square Park to listen to inspiring talks from leaders in the animal rights movement, enjoy free vegan food samples, and visit exhibitors offering a variety of pro-veg educational materials.
Mercy For Animals hosted a
Paid-Per-View
exhibit at the rally, where passersby were paid one dollar to watch a 4-minute clip of MFA's hard-hitting documentary,
Farm to Fridge
. The MFA viewing booth was crowded all day with curious people interested in learning more about modern animal agriculture. The shocking footage stirred emotions and inspired many viewers to adopt a vegan diet on the spot.
If you are interested in coordinating a Paid-Per-View event in your community but are unsure how to go about it, don't worry, MFA has got you covered. Just check out our
step-by-step instructions
on how to set up a Paid-Per-View event, receive funding and obtain copies of
Farm to Fridge
and MFA's
Vegetarian Starter Kits
.
For information about choosing a compassionate vegan diet, visit
ChooseVeg.com
.