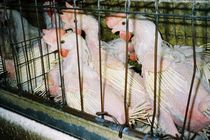 On the heels of a
lawsuit against the dairy industry
for killing calves in an illegal price-fixing scheme, the egg industry is now facing another, similar charge. This time the lawsuit is against the United Egg Producers, the largest egg industry trade group in the country, Cal-Maine Foods Inc., the largest egg producer, and 11 other egg producers and distributers. According to
Courthouse News Services
, Kellogg, Kraft and other major food companies claim the "egg cartel" conspired to increase egg exports and to kill off young chicks and egg-laying hens in order to reduce egg supply and control prices in violation of federal antitrust laws.
Sparboe Farms
, the fifth-largest egg producer in the country and one of the defendants in the case, was the subject of a recent MFA undercover investigation that revealed hens crammed into filthy battery cages and dead hens left to rot alongside birds still laying eggs for human consumption. The investigation also documented workers burning off the beaks of chicks without painkillers, sadistically and maliciously torturing animals, and throwing live birds into plastic bags and leaving them to suffocate.
Sadly, abusing animals and consumers is just business as usual for the egg industry. The good news is that simply leaving eggs off your plate and replacing them with
cruelty-free vegan alternatives
is a powerful way to protect yourself and animals from being cheated by the rotten egg industry.