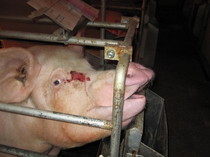 On Wednesday, Mercy For Animals and other major animal protection organizations praised the Illinois Judiciary Law Committee for
tabling
anti-whistleblower legislation known as H.B. 5143.
Much like the harmful and unconstitutional law that recently went into effect in
Iowa
, H.B. 5143 sought to criminalize those who expose
animal abuse
, unsafe working conditions,
environmental destruction
, and other illegal and unethical activities on farms. Tabling the bill essentially removes it from consideration.
Thankfully, similar whistleblower-suppression legislation in Indiana ― S.B. 184 ― has also been halted after dying in committee last week.
"We applaud Illinois and Indiana legislators for listening to the will of the people and abandoning these dangerous and ill-conceived bills, rather than caving to the corrupt motives of the factory farming lobby," said MFA's Executive Director Nathan Runkle. "Truth and transparency in
food production
are vital to the integrity of our nation's food supply," he added.
While we're heartened by the decisions made by the Illinois Judiciary Law Committee and the Indiana legislature, we're disappointed that the Utah state legislature has apparently bowed to the pressure of corporate factory farming interests by passing anti-whistleblower legislation known as
H.B. 187
.
At a recent
press conference
held in Salt Lake City, MFA screened video footage from
undercover investigations
to illustrate the pressing need for whistleblowers. Speaking out against H.B. 187, Runkle explained that it serves as "a thinly veiled" attempt to shield animal abusers from public scrutiny. "This bill is dangerous, and an outrage, and we urge Governor Herbert to veto it," he stated.
Take Action
:
Utah residents,
please click here to let Governor Herbert know that documenting animal abuse is not a crime
. You can also call Governor Herbert at (800) 705-2464 and urge him to veto H.B. 187.