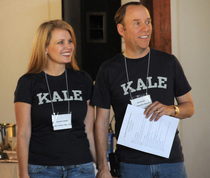 A recent "
New York Times
" article highlights one mayor's efforts to encourage the members of his town to adopt a healthy plant-based diet.
Hailing from Marshall, a small town in east Texas, five-term mayor Ed Smith became vegan in 2008, after a prostate cancer diagnosis. The "Times" explains: "He began eating only whole grains, nuts, fruits, vegetables and legumes. Scans later showed that the cancerous growth had disappeared."
Mayor Ed Smith and his wife, Amanda, have also founded Get Healthy Marshall, a nonprofit group that promotes a plant-based diet to combat chronic illnesses, such as heart disease, diabetes and cancer. Mrs. Smith organizes regular potlucks and healthy eating tours of local supermarkets.
The article also shares the successes of local residents who have improved their health through a vegan diet. These include Vicki VanDeCarr, who was convinced, after watching the award-winning film Forks Over Knives, that a plant-based diet could help her avoid many of the health problems suffered by other members of the community.
Whether you'd like to improve your health or
prevent cruelty to animals
, you can get delicious meal ideas and tips on going vegan by visiting
ChooseVeg.com
.