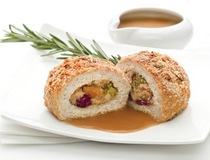 In recent years, the selection of delicious plant-based alternatives to meat, dairy and eggs has skyrocketed, giving consumers more variety and making vegetarian eating easier than ever before. Honing in on this trend, a recent article in the
Wall Street Journal
reports that the number of "meatless" products in the U.S. has increased by a whopping 21 percent in the past two years and Americans are expected to consume
12 percent less meat in 2012
than they did just five years ago.
Leading the way are popular brands like
Boca Foods
,
Turtle Island Foods
,
Lightlife Foods
and more that are developing new and improved, even tastier versions of their best-selling meat-free delights. New ingredients are being used to give the substitute a more "meat-like" taste and texture in hopes of encouraging meat-loving consumers to cut down their overall meat consumption. At the same time, these companies are helping to expand the meat-free market through clever national advertising efforts, like Gardein's new
Cheat on Meat
campaign.
Whether it's to
prevent cruelty to animals
,
protect the planet
, or
improve your health
, you can't go wrong with tasty, meat-free fare! For free healthy, tasty recipes and tips on a compassionate, plant-based diet, visit
ChooseVeg.com
.