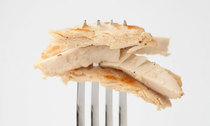 Late last week, meatless meat took center stage on
TODAY
, a popular morning news program with a viewership of nearly 5 million.
The segment highlighted the growing number of meat alternatives that taste just like the real thing, with a special focus on
Beyond Meat
, a relatively new company that is changing the face of meatless meat.
The show's anchors took this opportunity to hold a taste test. The results? They guessed wrong for both the chicken and beef!
Hampton Creek Foods
, creator of Beyond Eggs, also makes an appearance. Hampton Creek is famous for its innovative new product Just Mayo, which replicates the taste and texture of traditional mayo, without all of the cholesterol and animal cruelty inherent in egg-based mayonnaise.
Ethan Brown, Beyond Meat's founder, also mentions plans for creating a hamburger to be released this summer!
For a host of delicious recipes, and for tips on transitioning to a plant-based lifestyle, visit
ChooseVeg.com
.